Mr Prakash consultant Orthopaedic Surgeon in Birmingham
PRP Injections in Birmingham
Mr Prakash specialises predominantly in knee and hip joint surgery especially for young adults (age 20-65). He routinely performs surgery related to sports injuries and arthritis and one of his key focuses is on PRP Injections.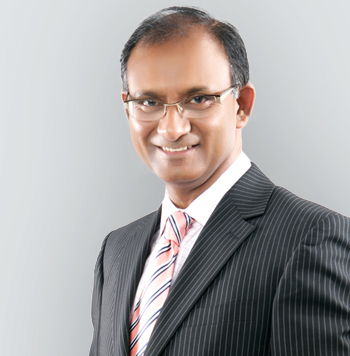 Platelet-rich plasma (PRP) is a part of a patient's own blood. The plasma has a high concentration of platelets, a particular type of cell present in all individuals, hence its name "Platelet-Rich Plasma".
Injections of a concentration of a patient's own platelets has been shown to accelerate the healing of injured tendons, ligaments, muscles and joints as it has a high concentration of growth factors. PRP injections use each individual patient's own blood cells to help with the recovery of various musculoskeletal problems.
Mr Prakash normally performs the procedure in outpatient setting. PRP injections are prepared by taking patient's own blood and centrifuging it to concentrate the platelets. The plasma, with high concentration of platelets, is then injected directly into the injured or diseased part of the body. This releases the growth factors that stimulate and increase the number of reparative cells the body normally produces. In total the procedure should last around 10-15 minutes. PRP relieves pain without the risks of surgery, general anaesthesia, or hospital stays and without a prolonged recovery. Mr Prakash recommends that patients should have three PRP injections at weekly intervals as studies have shown that this is more effective than one single injection.
Platelet-rich plasma has been found to significantly enhance the healing process, and its use is becoming increasingly common for conditions like tendonitis and even early arthritis. After the injection, a patient must avoid exercise for a short period of time before beginning a rehabilitation exercise program. Use of anti-inflammatory medication is also recommended to be reduced for about three weeks after the injection.
Advantages of PRP injections include reduction in the need for anti-inflammatories or stronger medications. The adverse effects of PRP injections are very limited because, since the injections are created from the patient's own blood, the body will not reject or react negatively to them. As with any injection, there is a very small risk of infection.
Some early-stage clinical studies in humans have been promising, but are limited by their study design and few patients. In a small study involving knee osteoarthritis, PRP treatment was shown to be more effective than hyaluronic acid treatment.
In Mr Prakash's personal experience, his patients who have received the injections have benefitted significantly from them.
Because PRP is created from a patient's own blood, it is considered a relatively low-risk treatment with the potential to improve or speed healing. More studies are needed to prove the effectiveness of PRP treatment and to research the best ways to standardize the treatment's preparation.
In summary:
Platelet-rich plasma (PRP) is prepared from a patient's own blood.
PRP is a concentrated source of growth factors which helps healing
Researches indicate that PRP treatment may improve healing in many tissues